SUBMISSIONS HAVE CLOSED FOR THE 2018 FESTIVAL (3-7 April 2018)
If you have a film to submit, please check back late May/early June to submit for 2019.
Note to Filmmakers 15 October 2017–we would love to see your films from anywhere on  Planet Earth, not just premodern societies and far-away places. This year, for some reason, we have been delighted to see large numbers of submissions from Africa, Asia, and Latin America, but for some unknown reason, we have relatively few from the U.S. and Europe. Please submit!
Announcing Ethnografilm New Orleans!
20 October 2017 at the New Orleans Jazz Museum 2pm-4:30pm
The very first New Orleans edition of Ethnografilm is a moment to cherish for all those who love this style of schoarlship and filmmaking.  We thank the Society for Social Studies of Science and the International Social Science Council who have been instrumental in implementing the vision of a festival to celebrate excellence in movies that enhance our understanding of the social world.
Submissions Ethnografilm Paris 2018
Submissions now open for the 2018 festival : April 3-7, 2018
Next deadline 1 December 2017
All non-fiction films (earliest release date Jan. 2012) are eligible.
Our opening reception and final performance was unique in the history of film festivals! Everyone said it was the best ever!  Buswell & Nyberg's Paris Music Challenge – Shaun Buswell & Erik Nyberg arrived  from London & Gothenburg in Paris on 1st April, with no musicians and no music. In ten days they formed a 20 piece band made up entirely from musicians they met here in Paris, wrote an original set of music, premiered at Ethnografilm on April 11th!
By tradition, our last film is always the projectionist's choice!
After the last session of Ethnografilm over 40 directors retired to the nearby Autour du Moulin to continue the discussion!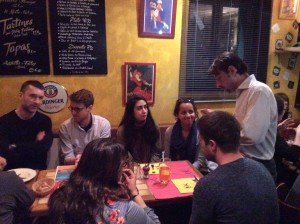 Associated with the festival is the Journal of Video Ethnography http://videoethno.com (Gregory Scott, Editor)
April in Paris! Ethnografilm features Q&A after each session and free tours of the historic Montmartre district.