Submissions
Submissions now open for the 2018 festival : April 3-7, 2018
All non-fiction films (earliest release date Jan. 2012) are eligible.
Our opening reception and final performance was unique in the history of film festivals! Everyone said it was the best ever!  Buswell & Nyberg's Paris Music Challenge – Shaun Buswell & Erik Nyberg arrived  from London & Gothenburg in Paris on 1st April, with no musicians and no music. In ten days they formed a 20 piece band made up entirely from musicians they met here in Paris, wrote an original set of music, premiered at Ethnografilm on April 11th!
By tradition, our last film is always the projectionist's choice!
After the last session of Ethnografilm over 40 directors retired to the nearby Autour du Moulin to continue the discussion!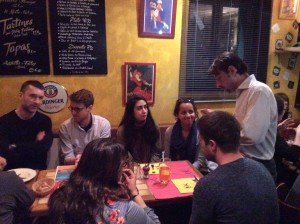 Associated with the festival is the Journal of Video Ethnography http://videoethno.com (Gregory Scott, Editor)
April in Paris! Ethnografilm features Q&A after each session and free tours of the historic Montmartre district.